------------------------------------------
Joan Veon
May 17, 1949 -- October 18, 2010
------------------------------------------
Letter from Joan Veon - PLEASE CLICK HERE
FOR YEARS JOAN HAS TALKED AND WRITTEN EXTENSIVELY ABOUT AN EVOLVING GLOBAL SYSTEM. IN HER NEWEST VIDEO, "2008 CREDIT CRISIS" SHE EXPLAINS HOW THE AMERICAN PEOPLE HAVE MUCH TO LOSE THROUGH THE TEARING DOWN AND TRANSFER OF AMERICA'S FINANCIAL SOVEREIGNTY. DONATION: $25.00
---
NEW VIDEOS

"21st Century Feudalism"

If you want to know the power players, if you want to know the history, if you want to know the agenda, order this video. Americans are now serfs, we have no voice, we have no rights, we are a commodity. $19.95 plus S/H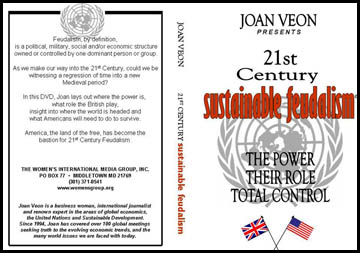 ---
"From Bretton Woods I to Bretton Woods II
When Central Bank Rule the World"

AVAILABLE SHORTLY FROM TWIMG:
Joan has spent about 250 hours listening and reading all that she could to determine the agenda for the world. This video builds on "21st Century Feudalism" and "2008 Credit Crisis." It is a must. The structure of our government is changing, the role of Congress is basically null and void, and the Federal Reserve, our private corporate central bank is ruling. Learn what happens when "Central Banks Rule the World." This video is 90 plus minutes. $24.95 plus S/H. If you order all 3, we will give a 10% discount. since we are having trouble with PayPal, please call 301/371-0541.
---
Major Changes to U.S. Sovereignty, Historical, Economical, and Political. Time Period: 1940-2008 Collection - Click photo for more details


---
Joan's DVD - The World Government Connection
Order today - ONLY $24.95 + $5.00 S/H

AVAILABLE NOW: Get an audio tape of Joan's latest speech: "World Government--the Tragedy and the Hope." This tape will help you understand a world without borders, the new global policy for the dollar and how the stock market has been put back into pre-1929 times. Audio tape accompanied by indepth analysis of new global policy for the dollar. Call 301/371-0541 and order using Visa/MC or send $10.00 to TWIMG, P. O. Box 77, Middletown, MD 21769. VHS to be available soon.
---

On this website you will find the notes, reports and interviews of Joan Veon, international journalist and business woman. At present, the documents are roughly organized by topic or conference. Joan writes two newsletters, one on the United Nations and the other is an economic newsletter. Both are on this website.

Note 1: While the material on this website may be dated, or if this material is new to you, it will be important to read in order to understand the big picture.

Note 2: The address below is the current address for the Women's International Media Group. Some of the news letters and other items contain an older address.

Note 3: Joan Veon has spent 12 years without any salary and at great personal expense to accumulate, read, analyze and write what appears on this website. If you use this as a library or if you are using my material for your own articles or ministry, a kind donation to The Women's Group would be greatly appreciated.